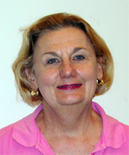 Judith M. Betz joined The Brain Foundation in 2009 and brings 40 years of experience in sales management, customer service and small business accounting to the organization.

After graduating from Western College For Women in Oxford, Ohio, she started her career in sales management, working for Associated Dry Goods Stores in Cincinnati, Ohio. At the same time, she helped with her parents business, in both sales and accounting. When Judy moved to Minnesota, she left retailing and worked for AT&T as a part of their customer service group.

In the years that followed, Judy worked as a small business accountant for firms in Illinois, Pennsylvania, and Virginia. In addition to doing the accounting work for The Brain Foundation, she currently manages a family business and several accounting contracts.

Judy has a personal understanding of brain disorders. She is both the legal guardian and court appointed fiduciary for her brother, who experienced brain damage as a child.

Judy and her family moved to Centreville in 1988. She enjoys gourmet cooking, genealogy and her grandchildren.


---