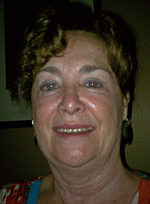 Patty Shumaker comes to the Board of Directors with hands on experience as the mother of a brain diseased adult. Her daughter, Amy, showed signs of illness early in her teens and is now 42 years old and a tenant of Armstrong, Laura's house.

Patty attended Northern Virginia Community College where she majored in Interior Design and worked full-time to support 2 children, while Amy was in and out of institutions and group homes. She has been a strong advocate for the mentally ill. In her advocacy role, she testified before the Commonwealth of Virginia legislators in an effort to help stop program cancellations and to curb funding cuts for programs in Prince William County.

She retired as Director of Presidential Support at the White House in 2005 after serving 3 Presidents. Retirement was needed to enable her to care for an aging parent and to monitor Amy's needs more closely during a difficult time in Amy's life.

Patty's education has enhanced her full-time hobby of improving her home and furnishings. Her business and design sense as well as her organizational skills will be invaluable to our Board and Laura's Houses as we grow and partner with other organizations.
---